Over deze coach
What most people know about me is that I have spent 20 years doing software, started 2 for-profit and 1 non-profit organization, and 8 years doing photography. What most people don't know about me is that I have spent a lifetime staying invisible. I have used my computer and camera as tools to hide behind. I am gifted at helping people see their power because I have spent so much of my life hiding my own. I see where you are powerful even when you cannot.
+ Toon meer
Eigenschappen van deze coach:
Creatief
Geduldig
Zorgzaam
Bedachtzaam
Vriendelijk
Doortastend
Sumit kan jou helpen bij:
Werkwijze
A totally new level of creativity, leadership and performance happens when we integrate the left brain with the right brain, the proactive with the reflective, the rational with the intuitive, the knower with the learner, the analytical with feeling and sensing emotions, and the science and art of living a good life. When you do so, you will find that instead of operating in a narrow bandwidth of thinking and analysing, you have a wider bandwidth to play with.
Ik richt me specifiek op:
"The tragedy of life is what dies inside a man while he lives." ― Albert Einstein "What is to give light must endure burning." ― Viktor E. Frankl
Hoe onderscheid ik mij van anderen?
I have spent more than a decade researching, practising, and reflecting on human behaviour (from perspectives of psychology, neuroscience, cognitive science, systems thinking, philosophy and leadership). I will reveal a set of first principles that are always present under the surface of our awareness. Just like gravity, it does not matter whether we agree with them or not, like them or not, and understand them or not. The only choice we have is to aware of them and then leverage them.
Voor wie of welke hulpvraag bied ik coaching aan?
Leadership Development
Managing people and teams
Personal self-awareness and development
Opleidingen
Coaching for Personal and Professional Mastery

Newfield Network

-

2020 - 2021

Foundations of Strozzi Somatics

Strozzi Institute

-

2021 - 2021

Creating Excellence In Organisations

Institute for Generative Leadership

-

2021 - 2024

Power of Presence

Coaches Rising

-

2021 - 2022
Meer informatie
Spreekt Sumit jou als coach aan?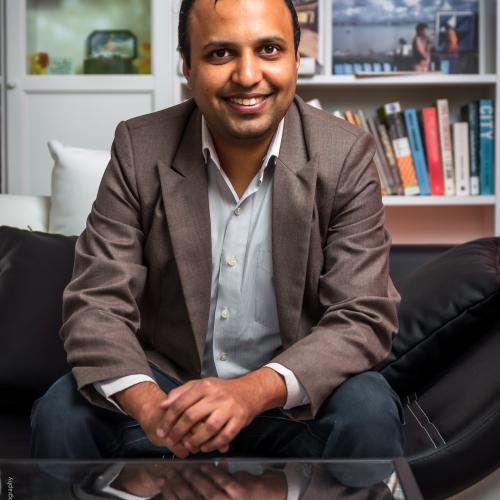 Vraag een gratis kennismakingsgesprek aan
Dit gesprek is vrijblijvend, dus je zit nergens aan vast
Je ontvangt een gratis e-book vol handige tips over coaching
Plan nu een gratis afspraak